MACULAR DEGENERATION SYMPTOMS
Macular Degeneration – There Are Two Types – Wet & Dry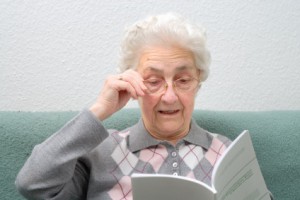 Macular degeneration symptoms (AMD symptoms) vary because there are two types of the disease – these are known as dry macular degeneration and wet macular degeneration.
Dry Macular Degeneration
Dry macular degeneration (dry AMD) is a form of progressive age-related "wear and tear". It can take between 5 to 10 years before symptoms start to affect your daily activities. Anyone can get this disease eventually. It tends to progress slowly and cause gradual visual impairment.
Dry Macular Degeneration Symptoms
Vision becoming hazy and with less definition.
Colours appear to be faded and less vivid than previously.
Difficulty in reading print.
Needing brighter lights for reading and other activities.
Wet Macular Degeneration
Wet macular degeneration (Wet AMD is caused by abnormal blood vessels growing under the retina. These blood vessels can leak causing the retina to swell or bleed causing haemorrhages in the eye.
An eye affected by Wet AMD is at risk of more rapid loss of vision. In the early stages patients may only experience mild distortion of vision.
Wet Macular Degeneration Symptoms
Straight lines, for example edges of doors and window frames, may look curved rather than straight.
Blind spots may occur in the middle of your field of vision. If left untreated this can become larger and develop into what is known as a central scotoma.
If wet macular degeneration is left untreated the disease can continue to cause rapid permanent loss of vision.
Patients experiencing recent onset distortion of vision need to be examined urgently as this could be an indicator that you have wet macular degeneration. If wet AMD is caught early and treated promptly there is now the possibility of arresting this disease and preventing sight loss.
With the right kind of support and advice many people with macular degeneration (AMD )continue to enjoy a good quality of life, retain their independence and continue to pursue their activities and interests.