MACULAR DEGENERATION TEST
Macular Degeneration Tests – There Are Two Main Types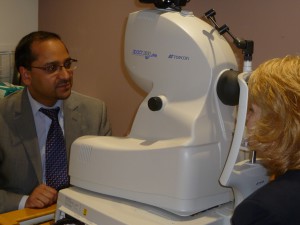 You will be referred for a macular degeneration (AMD) test if you have suspected macular degeneration. Sometimes tests for the condition are given routinely if you are experiencing any eye problems, especially if there is a family history of macular disease.
Modern investigation techniques can give detailed information on the health of the inside of the eye and confirm the need for treatment. They are also used to guide retreatment decisions. Mr Mahmood will discuss whether you would benefit from these investigations.
Fluorescein Angiography
A Fluorescein Angiogram gives the Ophthalmologist a detailed view of the blood vessels and the blood flow in your eyes. This test can determine which type of macular degeneration you have and is often given if you have suspected wet macular degeneration.
This test is usually required before starting treatment. Photographs of the retina and blood vessels are taken after injecting a special dye in your veins. Information can be gained on the health of the circulation of the eye, highlight abnormal blood vessels and areas of leakage from blood vessels into the retina.
Optical Coherence Tomography (OCT)
This is a new method of assessing the health of the retina. In contrast to Fluorescein Angiography no eye injections are required. All the necessary information is captured within seconds by shining a light in your eye and will show if any fluid has leaked into your retina. It can also highlight any thickening of your macula or any other abnormalities to the area.
This test is commonly used to monitor the effect of retinal treatments.
With the right kind of support and advice many people with macular degeneration (AMD )continue to enjoy a good quality of life, retain their independence and continue to pursue their activities and interests.