CATARACT CAUSES
Cataract Causes – No Definite Answer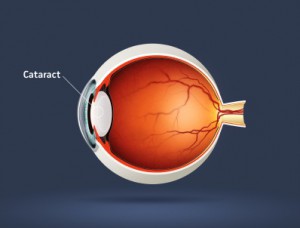 When it comes to discussing cataract causes there is no definite answer. It is not known specifically what causes age-related cataracts so the most common explanation for their development by far is quite simply attributed to the aging process itself.As we age changes occur all over the body and many of these changes are obvious and well documented. It's not as well known that over time, changes occur to our eyes and particularly to the protein that makes up the lens of the eye.
The lens of the eye is made up mostly of protein and water and as we grow older it is thought that the protein may become clumped together and that this is what causes the clouding of the lens experienced by people who have cataracts.It is important to note that a cataract is not a tumour or a growth.
Research suggests that there are several factors that could increase a person's chance of developing cataracts.
Cataract Causes – Are You At Risk?
A family history of the condition.
. Inadequate nutrition from a poor diet.
Over exposure to strong sunlight.
Smoking.
Alcohol.
Diabetes.
Previous eye injuries or conditions.
Previous eye surgery.
Long term use of medicines that contain steroids.
There are other causes for non age-related cataracts but these have cataract symptoms that tend to be present from birth and are the result of a genetic problem or exposure to infection.
Childhood cataracts are quite rare and children with the condition can be treated and go on to live full lives without severe impairment to their sight.
If left untreated cataracts can worsen and may eventually lead to severe sight impairment and even blindness. Fortunately, cataract operations are widely performed and can help to restore your sight to almost the same level it was before the onset of the problem.