RETINAL VEIN DIAGNOSIS
Retinal Vein Occlusion Diagnosis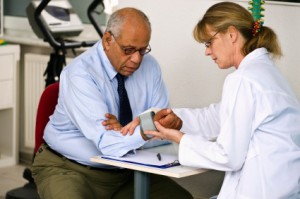 Patients who get a Retinal Vein Occlusion (RVO) diagnosis often do not know the condition by this name and may only understand that there has been a "haemorrhage" in the eye.
Retinal Vein Occlusion usually affects one eye although there are documented cases when both eyes have been affected. Loss of vision caused by Retinal Vein Occlusion can be sudden although some people experience occasional episodes of blurred or hazy vision.The condition is usually painless and some people with Retinal Vein Occlusion, particularly the 'branch' type do not experience any symptoms at all.
In these cases the RVO may be incidentally discovered by a diagnostic procedure known as fundoscopy.
To diagnose Retinal Vein Occlusion a full eye examination is given with a fundoscopy. The fundoscopy can discover any areas of swelling or any retinal haemorrhaging.
During the diagnosis further checks may be made to make sure there is no underlying reason for the eye problem, such as undiagnosed high blood pressure (hypertension), heart disease or diabetes.
Retinal Vein Occlusion can be a serious condition and can indicate other serious underlying health issues. Treatment options for RVO will depend on what is causing the blockage, however anyone with the condition will be advised to adopt a healthier lifestyle and have any underlying health conditions diagnosed and treated accordingly.
If left untreated an RVO can lead to permanent blindness in the worst case and a further complication of RVO is that some patients go on to develop glaucoma.
It is important to remember however that many people who are diagnosed with a Retinal Vein Occlusion regain functional vision.
More information on RVO is available: